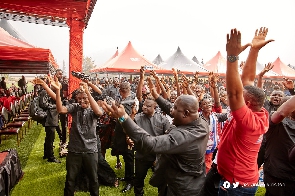 NPP grassroots cheering Alan Kyerematen
In what appears to be a show of the top vs. the bottom, polling station officers from the Greater Kwahu area stormed the funeral of the late father of the Eastern Regional Chairman of the New Patriotic Party (NPP) to support Alan Kyerematen.
Despite several attempts to tame them, over 500 polling station officers spontaneously jumped to join Alan's team in an organic and spontaneous manner.
The grassroots, who defied the deliberate attempt to stop the Alan Kyerematen trail after the former Trade Minister, out of respect, allowed the Vice President and the government delegation to greet, stormed the grounds chanting, "One man, one vote" and "It's your time, Alan Cash."
The polling station officers, who constitute over 95% of the electoral college, believe it is time to honour the former Trade Minister after sacrificing for Nana Addo to be elected as the Flagbearer.
The Members of Parliament who followed the Vice President were stunned by the massive grassroots support for Alan Kyerematen.
In recent times, some Members of Parliament have followed the Vice President to funerals to shore up support after it appeared the grassroots had neglected the Jubilee House candidate, who is being managed and perhaps financed by Gabby Asare Darko and Ken Ofori Atta, respectively.
Source: Ghanaweb.com